Architectural Services to Suit You
From full-service involvement to individual stages of the design and delivery process, our team is on hand to work with you, every step of the way
A Partnership Designed to Deliver
Because of our diverse architectural experience and vast client base, you benefit from architectural insights gathered from an extensive array of architectural successes.

From more conventional to niche designs, we offer a flexible service that never compromises on quality.
With a mission to develop the best living spaces and dwellings to meet our clients' needs, the calibre of our work is always consistent.
Your project, our expertise.
Services Tailored for You
We understand not every project requires the full architectural service; from initial concept (RIBA Stage 0-1) to completion handover (RIBA Stage 6).
This is why we're ready to work with you on individual stages of the design and delivery process, or combine services to suit you.
Whatever your needs are, our team is on hand to support and guide you on your journey through the required RIBA Stages.
Client Requirements and Brief
We'll develop a unique project brief to define your project goals, spatial requirements, sustainability outcomes, quality aspirations, and project budget. This gives us a platform to initiate your concept design. 
To conceptualise your design and develop an architectural concept that's in line with your brief and budget, we work in 3D to value engineer and finalise a scheme that meets your vision.
Planning Permission Application
Need assistance with a planning application? We can supply planning submission drawings and documents while simultaneously coordinating other aspects of your application. 
Permitted Development Permission
Do you have a project that falls under Permitted Development rights? Our experience using the 'rights for homeowners' technical guidance could help you extend and enhance your home without having to endure the full planning application process.
Building Regulations Submission
With our knowledge of technical design and the revised Government Building Regulation Requirements released in June 2022, our team can prepare and coordinate your building regulations drawing package for submission, allowing your site to progress.
Details for Construction and On-Site
We provide full construction details for your chosen contractor.  Our experience of complex construction details and responses to on-site queries allows us to coordinate and oversee your project delivery. This ensures we achieve a smooth transition from drawing board to reality.
Sustainable Design and Modern Methods Of Construction
Certified on the Green Register of Construction and utilising Modern Methods of Construction (MMC), we understand the value of sustainable building practices and creating a positive impact for the future. 
As well as ensuring that all of our new builds uphold our sustainable values, we are also highly experienced in retrofitting and restoring older properties. From improving your energy rating to helping you save money on fuel costs, our team understands both the social and financial benefits of the Green Economy.
Award-Winning Multidisciplinary Architects in Cheshire
Over the last three decades we haven't been shy of award nominations. From The Northern Design Awards to Local Area Building Control Awards, we have been shortlisted as finalists and winners, including 'Best Residential New Build' to 'Best Architectural Practice' in the Northwest.
We are hugely grateful to our dedicated team, construction partners and consultants, and especially to our clients who we have worked with over the years to deliver such incredible projects.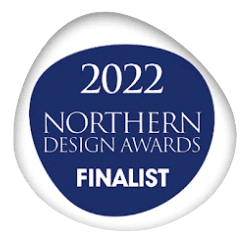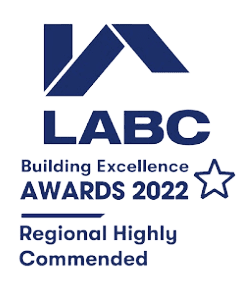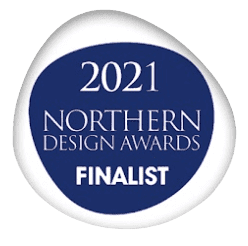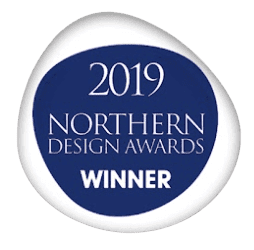 Frequently asked questions
Can you act as a point of contact with local building authorities?
If we're assisting you with planning permission or building regulation compliance, our architects will be able to submit all of the documents you need to local authorities. They'll also be available for any amendments or resubmissions that are required.
Do you offer design services for media suites and swimming pool architecture?
We do! Many of the builds we've completed have included leisure facilities such as media rooms and swimming pools. From private homes to community facilities, feel free to reach out to our team to find out more about these services.
Can you provide a budget cost analysis?
Yes! To make sure we're on target with your budget, we can provide a budget cost analysis before the planning stage to ensure we're on target.
Can you collaborate with other industry professionals?
Absolutely! Just let us know what stage your development is at and we'll be able to provide more information on how we can help!
Do I need an Architect for all stages?
No, the choice is yours. Most projects have 7 stages that we can service, ranging from a feasibility study and developing a concept scheme, to advising on a Master Plan & adding value, through the Planning Permission stage, Building Regulations stage, Details for Construction and Tender stage through to completion on site with the chosen contractor. You may wish to include Interior Design plus the co-ordination of energy efficiency measures, lighting and security systems and Smart home technology.
Is your project our next design challenge?
If so, our process is simple!
Is your project our next design challenge?
If so, our process is simple!

Let's talk - speak to an experienced member of our team
Let's arrange an initial consultation to discuss your ideas

We'll define a proposal to develop your concept into reality